Part 3
The Monty Python sketch
For the answer, we must go back to 1970, in which year Monty Python, at the end of their 25th episode, the Python guys did a short sketch (less than 2 minutes) named "Spam"...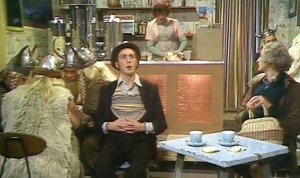 I highly recommend you watch it (it's worth it to buy the whole series in DVD, but, for now, you can watch this sketch by going to the External links page...)
The sketch is like this: there's a couple in a restaurante, and the wife tries, at all costs, to order a meal without SPAM... however, that proves difficult. Meanwhile, a group of vikings (!), whenever the word "SPAM" is said a few times, begins to loudly sing a song about "lovely SPAM, wonderful SPAM", drowning out the main characters' conversation.
The reason for the choice of SPAM for the unwanted ingredient is also interesting: during World War II, most of the food in the U.K. was rationed, but, for some reason, SPAM was never included, and it soon became one of the few foods you could have as much as you want. Naturally, after a few years, the British were quite tired of it...
Also, the vikings' song about SPAM, drowning out all conversations in the restaurant, is probably familiar to someone who's used the Usenet, or has an email account...